Keto, Low-Carb Blue Cheese Dressing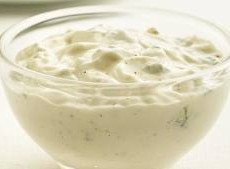 Blue cheese dressing
is a thick and creamy option that can't be eaten on a low-fat diet. Keto dieters rejoice! We can have our blue cheese dressing any time. It's great on salad or as a dip for some tangy buffalo chicken tenders
. It's also good on a juicy burger.
This blue cheese dressing recipe is really creamy and tangy. I love the flavors of the garlic powder
and Worcestershire sauce
. Yummy.
Original recipe makes 2 1/2 cups
3/4 cup sour cream
1 1/3 cups mayonnaise
1 teaspoon Worcestershire sauce
1/2 teaspoon garlic powder
4 ounces blue cheese, crumbled
Directions
In a large bowl, whisk together the sour cream, mayonnaise and Worcestershire sauce. Season with mustard, garlic powder, salt and pepper. Stir in blue cheese. Cover, and refrigerate for 24 hours before serving.
Adapted from recipe at http://allrecipes.com/recipe/bills-blue-cheese-dressing/
Photo from Betty Crocker website.