Low-Carb Keto Breakfast: Chorizo and Eggs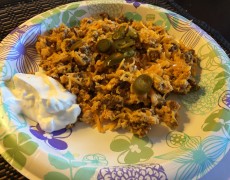 I love Mexican food! One of the perks of the keto diet is that I can still eat chorizo, even though I can't eat beans. Going to a Mexican restaurant for a chorizo and egg breakfast is a bit of a struggle, since I'd really like to eat the tortillas and beans that usually accompany the meal.
On weekends, when I have more time to cook, I make myself chorizo and eggs. This way, I can control the bad stimuli. LOL. It's a pretty basic recipe, so simple, yet so delicious!
3 eggs – scrambled
1/4 lb chorizo (I like spicy)
Optional – add grated cheese, top with jalapeno peppers and sour cream. Also optional, add a low carb tortilla
.
Carb count:
Eggs – .6g each = 1.8g
Chorizo – .5g per ounce = 2.0
Jalapenos – 17 slices = 1 g
Sour cream – .4g per tbsp = -1g
By the way, please excuse the paper plate in the picture. On weekends, I also avoid doing dishes.