Keto, low-carb, Indian butter chicken over "rice" – 4.8 grams carbs per serving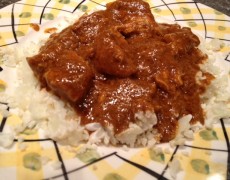 Indian Butter chicken can be made easily at home with this Kitchens Of India Curry Paste For Chicken Curry
packet. Simply add the packet to chicken and water, and microwave it for 22 minutes on medium power. Make sure it's on MEDIUM POWER. I once had a very dried out dish when I forgot that factor.
I use:
Approximately 6-8 frozen chicken tenders (thawed) (0 carbs)
3 tbsps butter (0 carbs)
1 cup water (0 carbs)
Indian butter chicken paste (3 net carbs per serving)
It's easier if you mix the butter, water, and paste first, then add the chicken. I mix and microwave in the same glass dish with lid
because I do not like cooking, and it's convenient.
After cooking for 22 minutes on medium, let it sit for 5 minutes with the lid on.
While it's cooking, grate 1/2 to 1 head of cauliflower so it's similar to the consistency of rice. After cooking the chicken, microwave the bowl of cauliflower. It's easier to grate before cooking, by the way. It probably won't need more than 5-10 minutes, depending on your microwave.
*You can also use a 10-ounce bag of frozen cauliflower for convenience. You can get about 4 servings from one bag.
Ladle the butter chicken over the "rice." DELICIOUS!
Carb count:
Total carbs entire Indian chicken recipe – 12 net carbs
Grated rice – one 10z bag – 7.24 grams
Four servings = 4.8 net grams for one serving of chicken over grated rice