Keto, low-carb, quick and easy chicken marsala packets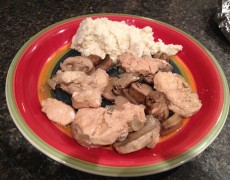 This is a simple, quick, and easy recipe, and it is pretty tasty. Add some vegetables and cauliflower mashed "potatoes" or cauliflower "rice" on the side and you've got the makings of a good meal.
The individual foil
packets make it a quick and convenient dinner with little clean up time. It can easily be eaten as leftovers the next day – great to pack for lunch.
Ingredients
6 16 inch long sheets of aluminum foil

9 chicken tenderloins cut into thirds – 0 grams carbs
1 medium onion roughly chopped – 10 grams carbs
12 ounces sliced mushrooms
 -2 grams carbs
12 tablespoons DRY Marsala wine
 – 3 grams carbs
Directions
1) Preheat the oven to 375 degrees and lay out all six sheets of the foil
2) Distribute the chicken, onions and mushrooms evenly on all six sheets
3) Sprinkle two tablespoons of the wine on top of the chicken mixture
4) Wrap the foil into loose packets and put on a baking sheet
5) Bake for one hour
Carbs = chicken-0g, onion-10g, mushrooms-2g, wine-3g. Total recipe = 15g. One serving = ~4 g.
I've read that there are fewer carbs in dry marsala wine than in sweet marsala wine. If you use sweet, the carbs are 24 grams per 12 tablespoons, which makes this recipe 9 per serving.