Spicy sausage and cream cheese bread turned into keto, low-carb style "pizza"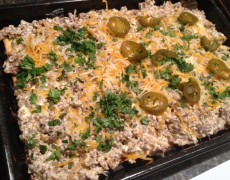 Last week, we went to an overnight party at a friend's house, and the next morning, she made a really really delicious sausage/cheese bread for brunch. You've probably seen recipes online – it's the kind that looks like a braided loaf of bread, but it had a yummy cheesy-sausage center.
We pondered over how to make it low carb because it was so good, but, well, it was BREAD.
Knowing the sausage and cheese needed to be on some type of bread or pastry, I came up with this "pizza" version using my favorite low-carb pizza crust. It's not quite a pizza, but it's not really easy to describe, either. It IS good.
I tested the recipe on my pizza-loving step-son. He loved it. He kept asking, "why have pizza places not thought of using CREAM CHEESE on pizza?!"
This is adapted from a recipe similar to this.
Topping ingredients:
1 pound spicy bulk pork sausage – 6 grams carb
1 (8 oz) package of cream cheese, room temperature – 9.6 grams carbs
1 cup shredded cheddar cheese – 1.4 grams carbs
1/4 cup chopped onions (optional)
1/4 cup chopped fresh cilantro
8 jalapeno slices (because it needed something to counteract all the cheese) – <1 gram carbs
Crust ingredients:
First, make the crust. (Picture shows 2, but this recipe is only for one)
Preheat oven to 375.
Lightly spray a 13 x 9 Inch oblong pan with cooking spray.
With a handheld mixer, mix cream cheese, eggs, pepper, garlic powder and parmesan cheese until combined.
Spread into pan. It will be the consistency of batter, so it's better with a pan with a lip.
Bake for 15-20 minutes, or until golden brown. (Even if it gets too dark, it still tastes good – and it smells heavenly.) Allow crust to cool for 10 minutes.
While the crust is baking, make the topping.
In a 12-inch skillet, cook the sausage in a pan.
When about half cooked, add onions.
When there is no more pink, drain the grease off (optional), then add the cream cheese and stir in until melted.
When bubbly and hot, smooth it out over the crust.
Top with the grated cheese.
Sprinkle the cilantro over all.
Garnish with jalapenos. (I did mine on half, because my husband isn't a fan.)
Bake for about 10 minutes. Everything is already cooked; you just want the cheese to melt.

Note: I didn't drain the sausage and I could see the grease go under the crust, but it didn't really make it soggy.
Serve in slices, like pizza.
Entire recipe = 28 grams carbs
Eight servings = 3.5 grams each  slice