Low-Carb Keto Cheesy Garlic Biscuits (Like Red Lobster)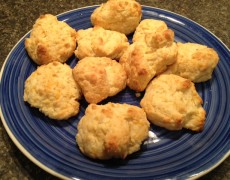 I've been on the keto plan for awhile, and I rarely get cravings for carbs anymore. I can honestly say one of the most difficult temptations I would still have is dining at Red Lobster and saying no to the cheesy garlic biscuits. However, with a bit of effort, I can create some really delicious low-carb substitutes at home.
These turn out almost the same as the Red Lobster cheesy biscuits, but they each have only 2 grams of carbs. They use Carbquik, a delicious substitute used in many low-carb bread/roll products. Use it in place of Bisquick.
Similar to the authentic Red Lobster rolls. The texture and look are the same.
The Red Lobster version is 17 grams of carbs, and this is only 2 grams, so it's a nice substitute.
Top with butter, because it's okay to have on the Keto plan.
2 cups Carbquik
2⁄3 cup heavy cream
1⁄2 cup cheddar cheese, shredded
1⁄2 cup butter, cut in small pieces
1⁄

2 

teaspoon garlic powder
Toss the Carbquik with the garlic powder. Cut in the cold butter with a pastry blender. It's a crumbly mix. Add the cheese. Gently stir in the liquid just until the dough comes together and drop by large mounded spoonfuls onto a lightly greased baking sheet. Bake at 450º 10-12 minutes until golden brown.
Makes 12 biscuits at 2g net carbs each. Wonder why there are only 10 on the plate in my picture? Yum!
Don't forget to top with all the keto-friendly butter you want!