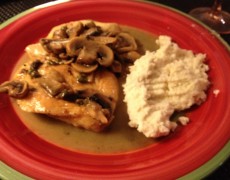 Chicken piccata that's simple, elegant, and delicious.
Chicken
Garlic
White wine
Lemon juice
Capers
Mushrooms
Cut the chicken and pounded it flat with a mallet. After that, the whole recipe took me less that 20 minutes to complete.
Sautee the chicken in olive oil and butter, then transfer to a plate.
Sautee garlic and mushrooms, addwine and lemon juice, then add capers. Let this simmer.