Keto-friendly, no-dough, low-carb pizza crust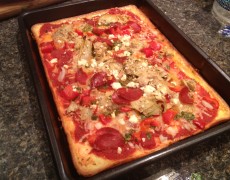 This is my all-time favorite crust. The cream cheese
gives it a great flavor. It's a very thin crust, but it's the best one I've found on the keto diet. I'd love to give credit to the creator, but it was one of those low-carb recipes passed around on Facebook.
Preheat oven to 375.
Lightly spray a 9×13 pan with cooking spray
. With a handheld mixer
, mix cream cheese, eggs, pepper, garlic powder and parmesan cheese until combined. Spread into baking dish. It will be the consistency of batter, so you need a pan with a lip.
Bake for 15-20 minutes, or until golden brown. (Even if it gets too dark, it still tastes good.) Allow crust to cool for 10 minutes.
Top with low-carb pizza sauce (or enchilada sauce) and toppings. Bake 12-15 minutes, until cheese is melted.
Total carbs for entire crust = 9.8 (Results in approximately 8 slices.)
The pizza shown here is pizza sauce, pepperoni, onions, mushrooms, and the secret flavorful topping – cilantro!