Quick Low-Carb Keto Bang Bang Shrimp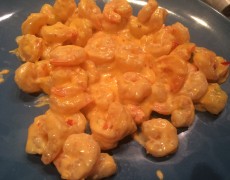 For dinner, I had a craving for some bang bang shrimp. I love this dish at Dave's Fish Market, and I really enjoyed the similar version of the shrimp I had in a restaurant in Florida last month. When we discussed the dish with the waiter in Florida, he said that the sauce was a simple combo of mayo, sweet and hot thai sauce and hot sauce.
I looked up the recipe for bang bang shrimp online and came up with my own keto version.
1 1/2 cups of mayo
1 tbsp sweet/hot chili
1 tsp srirachi sauce
I sautéed a pound of shrimp in 1 tsp of butter mixed with 1 tbsp olive oil for 4 minutes. When finished, I coated with the sauce and let it simmer about one minute.
The picture doesn't do it justice. My son said it looks like mac and cheese. Next time I make it – and I WILL make this again! – I will separate the shrimp and make it more attractive like they do at the restaurant. It wasn't quite spicy enough for me, so I drizzled a little more srirachi over the top. YUM