Low-Carb, Keto Chocolate Fudge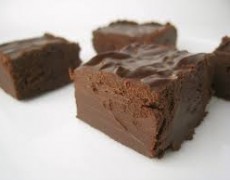 My husband makes this fudge for a sweet low carb / keto chocolate treat. It's simple to make and will definitely assuage the need for a low-carb sweet. The most difficult part is waiting 4 hours for the fudge to set.
It's hard to believe that each piece has fewer than 2 grams of carbs!
Here are the ingredients with the carb count for each item.
Ingredients (with carb counts)
2 Tablespoons butter (og)
1/2 cup heavy cream (3.5g – note, I have corrected this from 0g)
4 ounces cream cheese (4.8g)
3 drops EZ-Sweetz
sugar substitute (0g)
2 Tablespoons unsweetened cocoa
powder (6g)
1/8 Teaspoon salt
Directions
1) Melt butter in a small saucepan over medium heat.
2) Add heavy cream and cream cheese. Whisk until smooth.
3) Add Splenda; adjust for taste.
4) Heat until bubbling; stir constantly.
5) Reduce heat and stir in cocoa and salt. Blend well.
6) Pour into a small buttered dish and place into the refrigerator to set for three to four hours.
7) Cut into eight pieces. Keep refrigerated.
Makes 8 servings. Total carbs = 14.3. Carbs per serving = 1.79 grams!
Note – I've updated the carb count to reflect one commenter who pointed out that heavy whipping cream is 7 grams of carbs per cup. I plan to make this recipe again soon, in order to test my results since several commenters ended up with a gloppy mess. If anyone would like to post a picture, please email it to info@healthwithketo.com.
Thanks for your feedback!