Cincinnati chili and the keto diet – a match made in Heaven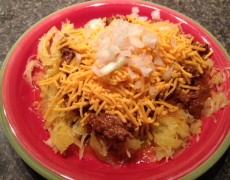 If you've ever had Skyline Cincinnati chili (or "Cincinnati-style chili") on your way through Ohio or Kentucky, then you know what a delicious and filling treat that is. Take a heaping pile of spaghetti, top it 2, 3, 4, or 5-way, and dig in to some fantastic comfort food.
Here are the yummy options:
Bowl: chili in a bowl
Two-way: chili and spaghetti
Three-way: chili, spaghetti, and cheese
Four-way: chili, spaghetti, cheese, and onions (or beans substituted for the onions)
Five-way: chili, spaghetti, cheese, onions, and beans
If you think you can't enjoy this fantastic meal on a keto or low-carb diet, you are wrong, wrong, wrong. The chili, cheese, and onions meet with keto approval easily (you may have to eat fewer onions than usual, but you can have about an eighth of a chopped onion per serving).
How to Lower the Carb Count
To make the chili, I use the Cincinnati Chili
by Skytime, Inc. You need one pound of ground beef and a 6 oz. can of tomato paste
. Be sure to watch the carb count on the tomato paste. [I corrected the amount listed next to the chili seasoning. It's the amount in one cup of chili, or 1/8 of the packet.]
Chili seasoning – 1/8 of packet (amount in 1 cup of chili) = 3 net grams of carbs
Ground beef (0 g. carbs)
Grated cheddar cheese – 1 cup = 1.45 grams of carbs
Onions – 1/8 onion, chopped = ~1 grams of carbs
Hunt's Tomato Paste
= 5 g. net carbs
Now for the substitutions…
The beans – Have you heard of the black soy bean
?
One-half cup of black soybeans is 8 grams of carbs and 7 grams of fiber = only 1 net gram of carbs!
The spaghetti – use spaghetti squash in place of the pasta; 1/2 cup cooked spaghetti squash = 4 grams of carbs
Many die-hard Cincinnati chili fans are cringing. Just try it. There are so many delicious toppings on your mound of spaghetti squash that you will love it. The squash is pretty similar in texture to spaghetti (hence the name) and a little bit goes a long way.
Carb Count of Entire Adapted Recipe
So, let's recap the carb count of the entire recipe:
Cincinnati chili seasoning – 8 cups – 24 g
Cheese – 8 cups – 11.6 g
Onion – 1 whole onion – 8 g.
Black soybeans – 1 cup – 2 g.
Ground beef – 0
6 oz. tomato paste – 5 g.
Spaghetti squash (4 cups) – 16 g.
Total for entire recipe = 66.6 grams
One serving (1/8 of recipe) = ~8.32 grams
Of course, you can add or subtract to the carb count depending on what ingredients you like best. I find that 1/2 cup of spaghetti squash is enough for one serving because there are so many toppings – lots of cheese, plus one whole cup of the chili is a pretty big amount. I don't use many soy beans, but I use plenty of cheese (1 cup), and you could use a smaller amount. Play with the combinations and discover what you like best.
The most difficult thing about the recipe is cooking the squash. Check out my fool-proof method here.
Directions:
In a large pot
, pour 6 cups of water, add one can of tomato paste, one packet of Cincinnati chili seasoning, and one pound of ground beef.
Do not cook the beef ahead of time; simply put it in with the water and seasoning and chop it up a bit as it starts to boil. Bring to a boil, then let simmer until the thickness you'd prefer.
While that's simmering, cook the squash (using this method)
While the squash is heating, assemble the rest of the ingredients: grate cheese (or open package – lol), chop the onions, open the can of beans.
Follow the directions for making the squash. Heat the beans in a bowl in the microwave. Assemble delicious plate:
1/2 cup squash
1 cup of chili
1/2 cup beans
1 cup cheese
1/8 cup onions
It's really not as difficult as it seems. I eat this about once a week and I don't like to cook. Bonus: it's just as good, if not better, reheated the next day.