Zesty Low-Carb Jalapeno Peppers Stuffed With Sausage and Cheese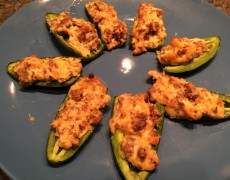 These delicious peppers aren't too hot – as long as you remove the seeds and membrane portion from inside. If you like them hot, leave a few seeds.
Be sure to wear rubber or plastic gloves or your fingers will sting after prepping the peppers. Be careful not to touch your eyes or nose or any other sensitive area if you've touched the peppers with your bare hands.
Ingredients
1 pkg. pork sausage (6 grams carbs)
1 pkg. (8 ounces) cream cheese, cubed, softened (9.6 g carbs)
2 cups (8 ounces) shredded cheddar cheese (2.8 grams carbs)
32 medium fresh jalapeño peppers (1 gram of carbs each = 32)
50.4 grams total = 1.57 grams of carbs per pepper (2 halves)
Directions
Preheat oven to 425°F. Cook sausage in large skillet over MEDIUM-HIGH heat 8-10 minutes or until thoroughly cooked, stirring frequently; drain. Place in medium bowl.
Add cream cheese and cheddar cheese; mix well.
Cut peppers lengthwise in half; discard seeds.
Fill each pepper with about 1 1/2 tablespoons of sausage mixture; press lightly into peppers to secure. (Filling should mound slightly above top edges of peppers. It will be thick and messy – but delicious!)
Place on lightly greased baking sheet.
Bake 10 minutes or until peppers are crisp-tender and filling is lightly browned.

Yield
32 servings (1 pepper each)