Chicken Shawarma is Low-Carb and Keto-Friendly!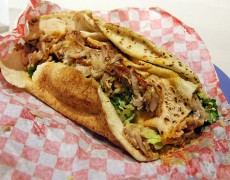 If you can pass on the pita portion (and the rice, of course), you can have chicken shawarma while eating low carb on the keto plan.
I buy a shawarma wrap and "unwrap" it. It's a little disappointing at first when you discover how little of the carb-friendly portion remains after removing the extra large pita. It sometimes wraps quite a few times around the shawarma.
However, once you have your pile of chicken and veggies, with garlic sauce, of course, you can eat it without or you can add your own pita bread.
Mmmmmmm…the flavors of shawarma can't be beat.
Note: You can also buy a shawarma dinner without the rice, but the dinner usually costs more than a sandwich. My husband and I also sometimes order a side of hummus and eat it with a fork. (In limited proportions, since it can be carby.)
Okay, so this post is not a recipe. Check back soon, because I love this so much, I'll be making it at home.