Low-Carb Keto Eggs Benedict – on a Chaffle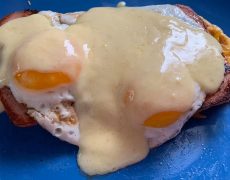 I've always loved Eggs Benedict. Since keto, I order it at a restaurant and don't eat the English Muffin. That's a little disappointing, plus often, the Hollandaise sauce doesn't taste lemony enough for me.
A few years back, I started making my own version of Eggs Benedict at home. I used Spam as the base, because I like it better than Canadian bacon and it's my recipe, so why not?
Here was the basic recipe:
3-4 thin slices of Spam
2 fried eggs (I know, they're supposed to be poached, but I like frying them in the Spam pan juices)
1 Knorr Hollandaise mix packet using…
1 cup of heavy cream in place of the milk and…
1-2 dashes of real lemon reconstituted lemon juice
I layered the Spam on the bottom, then eggs, then Hollandaise sauce and it was pretty good. THEN, I discovered the chaffle! Yay! Finally, a base for my dish.
1 chaffle = 1 egg, 1/2 cup of mozzarella cheese. I added a dash of garlic and onion powder and put a tiny bit of cheddar on the Dash griddle, then the egg and cheese mixture, then another tiny bit of cheddar. The added cheddar makes the chaffle crispier.
Now I had a base for the Eggs Benedict, and I have to say it was probably the best I've ever had, keto or non-keto versions!
I'm loving chaffles! There are tons of recipes on the internet. Make them in this the super affordable Dash Mini Waffle Maker.